The death of Edythe Hembroff-Schleicher in Victoria in 1994 marked a life associated with the world of art and of our Club which encompassed the best part of a century.

Born Edythe Hembroff in Moose Jaw, Saskatchewan in 1906, she la
ter moved with her family to the Rockland area of Victoria, where she attended Victoria High School, and during this period took painting lessons from Margaret Kitto, a member of the Island Arts Club. After graduation, she studied art at the San Francisco Art Institute where she met a Californian Marian Allardt, with whom she sailed to Europe in 1928 to further her art education. The pair attended art school in Paris, continuing their studies by traveling throughout Europe, sketching and painting in oils and watercolours, and freely experimenting in the latest artistic fashions. Sophisticated and well-educated, Edythe also made a study of the latest women's fashions.

Returning to Victoria in 1930, Edythe received a somewhat surprising invitation to take tea with Emily Carr, with whom she shared the experience of having attended three of the same art schools in England, France and California. At Emily's home she met Frederick Brand, who was to become her first husband, and he too became a great admirer of Emily. Both lent their support to their friend's rise to prominence. This marriage did not endure, but the Emily and Edythe's unlikely yet enduring friendship did, and lasted 35 years. These two enjoyed three sketching trips together, and Edythe's portrait of Carr, painted on one of these occasions, is part of the permanent collection of the Vancouver Art Gallery. At the same time Edythe strove to develop her own distinctive painting style.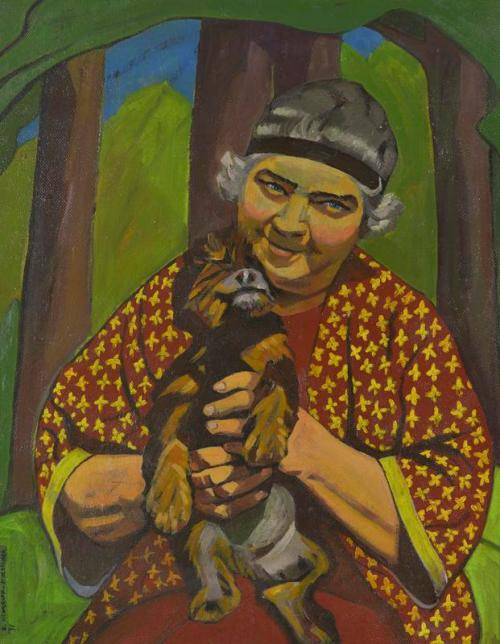 Hembroff first exhibited with the Island Arts and Crafts Society (IACS) in 1930. Her painting "Nu", an oil-on canvas shown at a Paris exhibition, also in 1930, won a major award at the Art Institute of Seattle later the same year. This was one of her four paintings displayed in the "Modern Room," organized by Vice-President Max Maynard as a component of the IACS annual exhibition in 1932, with the intent of introducing modern trends in art to the traditional art scene in Victoria. Other contributors to the Modern Room included Emily Carr, Jack Shadbolt, Ina Uhthoff, John McDonald and Maynard's 14-year old prodigy Ronald Bladen.

During World War II, Hembroff joined Prisoner of War Censorship in Ottawa, where her supervisor was Dr. Julius Schleicher, a Pole whom she eventually married. During her 20 years in Ottawa she never touched a paintbrush, but kept in close touch with Emily Carr up to the time of the latter's death in 1945. After returning to Victoria, Edythe Hembroff-Schleicher wrote her first book about Emily, entitled "M.E.", published in 1969, and in 1978 there followed a sequel, "Emily Carr, the Untold Story." It has been suggested that this devotion to Emily happened at the expense of both Edythe's own painting and writing time and perhaps resulted in her lack of recognition as an artist.

In 1974 she was appointed by the provincial government as a special consultant on Emily, and diligently researched the life of her old friend in the Provincial Archives. In 1981, at the Emily Carr Gallery in Victoria, she organized a partial re-creation of Max Maynard
's 1932 Modern Room. Her catalogue, written for this event, is now a collector's item. Edythe was supported in this venture by UVic Professor Kerry Mason, an authority on Emily and indigenous art and the first Curator of the Emily Carr Gallery, and who, incidentally, made a presentation for us at Windsor Park in 2019.

In 1982 Edythe gave a presentation at UVic entitled Victoria's Art Circles and Victoria's Women, 1932, alongside her biographer Christina Johnson-Dean, who discussed traditional values in Victoria's art circles at that time based on her Master's thesis on Josephine Crease.

Edythe Hembroff-Schleicher work is held in the permanent collection of the AGVV, UVic Legacy Gallery, the Vancouver Art Gallery and BC Archives.