Ray Goldsworthy: Colleague, Mentor, Friend
by John Lover ; collage by Christine Gollner
As VSC members, we are among the many saddened at Ray's passing. Heartfelt sympathy on behalf of us all has been conveyed to his family.

Ray's quiet and modest demeanour belied an outstanding professional career. A graduate of the UBC School of Architecture, he acquired international experience in the United Arab Emirates, Hawaii and France. Through his highly respected architectural practice, first set up here in 1990, his completed projects, which ranged across British Columbia, included innovative school and health care facilities such as Broadmead Lodge. He also worked in partnership with his friend and collaborator Nick Bawlf on the Victoria Conference Centre. It was fitting that we should celebrate our Club centennial in 2009 at the University Club which was another of Ray's creations.

He was also known in the community as a selfless volunteer. A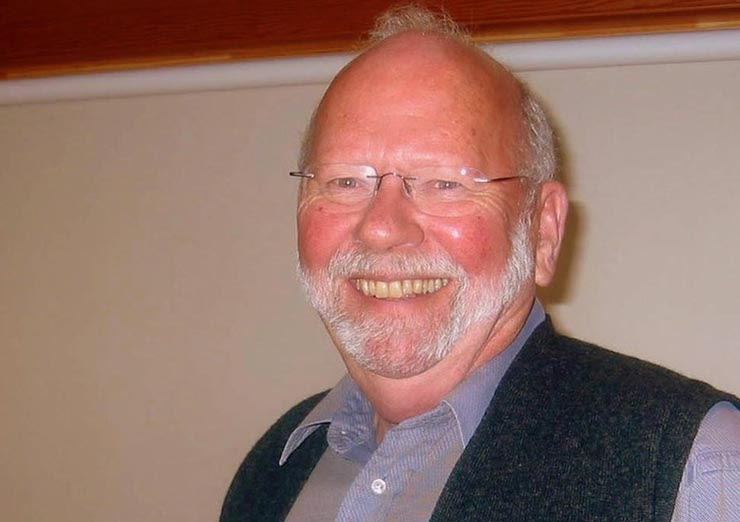 member of the Kiwanis Club of Victoria for 52 years, Ray started the tradition of an annual lunch which he then hosted for 30 years, and he is still remembered in those circles as "a happy individual with a big smile."

Ray came to us in 2005, shortly after the sad passing of his wife. In those early days he was generally seen in the company of the then ailing Nick Bawlf, to whom he gave constant support and the chance to enjoy some last years in the company of fellow artists. From the beginning, Ray was unfailingly generous in sharing his experience and talent, notably his sense of perspective. He also applied his professional skills in designing an improved layout of display panels at annual exhibitions which gave a better flow and increased visibility.

One secret to Ray's effectiveness was an unfailing ability to see what was important and to separate the wheat from the chaff. This emphasis on economy of effort was evident in his stints as Club Secretary and subsequently President. He believed that the shortest message was the most effective, and that one should put on paper only what was pertinent. In the chair he would politely discourage verbosity and cut to the heart of the matter. This philosophy was also evident in his art work with his impeccable tidiness, elegance and sureness of touch and his gift of expressing the essential with a few brush strokes. His work was at the same time packed with interest. It sparkled with his colourful imagination and a humour inspired by his fascination with the great cartoonists.

Ray truly valued his friends in the Club, and was very appreciative of his recent Honorary Member award. Most of all, we'll remember Ray for his kind and generous nature, his wisdom and his infectious laughter. He had that rare and wonderful gift of lighting up a person's day.

His loss has indeed left a gap in our ranks.